Zahn McClarnon loves Navajo mutton stew and has traveled all over Navajo
Zahn McClarnon loves Navajo mutton stew and has traveled all over Navajo
Editor's note: This interview was completed before the July 14th actor's strike. Download our 2023 travel guide at https://navajoguide.com/travel-guides/
By George Joe
All Photo Credit: Michael Moriatis/AMC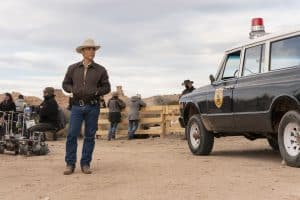 NAVAJO RESERVATION — Lakota actor Zahn McClarnon plays the central character in the television adaptation of Tony Hillerman's crime drama novels set on the Navajo reservation in the 1970s.
In Dark Winds, Season 2, McClarnon is the protagonist  Lt. Joe Leaphorn. There are 23 Navajos who play supporting roles, such as, Deanna Allison (Emma Leaphorn), Natalie Benally (Natalie Bluehorse), Anderson Kee (Harold Bigman), plus three Navajo writers, and seven others who work in various capacities such as camera, props set up (i.e. corn pollen bag, Navajo food), and administrative.
The first of six episodes for the second season of the show will air starting Sunday July 30 on American Movie Channel (AMC).
Undoubtable, the TV show will heap much attention on the Navajo people. So, NavajoGuide.com  decided to ask McClarnon about his experience, engagement, and travel across Navajo. The writer George Joe, served as the Navajo consultant for season two of Dark Winds.
McClarnon is from the Hunkpapa Lakota tribe. He has been an actor for over 30 years and has appeared on shows such as Reservation Dogs, Longmire, and some 50 other shows.
McClarnon loves to eat mutton stew, a savory traditional Navajo stew that consists of mutton and potatoes, which we write about and every visitor should try. And as an avid motorcycle rider, he has driven just about everywhere across Navajo and has made several Navajo friends over the past 30 years.
GEORGE: Tell us about the first time you met someone from Navajo.  Your first interaction, engagement with Navajo, and where have you been?
ZAHN: When I was a teen my mother's close friend and daughter were Navajo. Anne Begay and her daughter Kathy. They lived with us for a period of time back in the 1980's in Nebraska. Through work I also met the talented actress Geraldine Keams back in the early 90s. Geraldine, Anne and Kathy are still friends to this day. I also went to the Stars in the Desert event in Tuba City (Ariz.)  I forget what year…maybe '94 or '95.
GEORGE: Geraldine is actually from Dilkon chapter and Stars in the Desert was an annual event on Navajo in which Native American actors came out for a few days.
ZAHN: Yes. It was also the first time I really spent any time on the Navajo reservation  It was a wonderful time.—they brought actors and musicians out from Los Angeles and other places, and we participated in events that focused on inspiring the youth. The Stars in the Desert event in Tuba City was probably the first time I got to experience some of the culture. Since then I've been back to the Navajo rez multiple times.
The main spot I would say is Tuba City and Monument Valley. I've driven through the Navajo Rez many times, on my motorcycle and car. But those are the main places that I've stayed. I actually worked in Monument Valley on a film in 2006.
MEL: What is the main difference about the Navajo Nation compared to the rest of Indian Country? 
ZAHN: First off, the landscape…is obviously very distinct. Very vast, open desert.  Lots of mesas, the colors. The dry air. The elevation. It's an absolutely spectacular landscape.  But there's also the size of the Navajo reservation. It's a huge place. The traditional foods are obviously different. The agriculture and the ways of farming are also unique to that area. Hospitality is universal throughout Indian country and my experience in Navajo Country wasn't any different. Also, the humor within the native cultures has always had a big impact on me. I enjoy hearing native people laughing.
MEL: So, all that time you've come out to Navajo, I'm surprised you didn't find a Navajo in-law?
ZAHN: I was adopted unofficially. (Laughs) I just remember how warm and welcoming the family that sponsored me and allowed me to stay in their home were while I was in Tuba during Stars In The Desert. I also met an award winning Kachina Doll maker named Tim Talawepi who may have been Hopi. I'm not positive but I still have the Kachina Doll.
GEORGE: Might be Hopi or San-Juan Paiute. But it sounds like Hopi. I don't know them.
GEORGE: "Okay here is another question, there are some differences between tribes, right?  You know this… so what stands out about the Navajos?
ZAHN: I think we've touched on this in the question before. But I'd say the different traditions and the different customs of Navajo people. The ceremonies are different. The creation stories are also different. Living in the desert and how they deal with those elements are certainly unique to that area. All tribes obviously have different traditions and spiritual practices. I could be wrong on this but it seems the Navajo were more centered around farming, more so than my tribe. The Lakota people were centered more so around the buffalo. Also, the hogans seem to be pretty specific to that region. I think the similarities outweigh the differences though. Oh, don't leave your hair in the bathroom! Aaaay (he laughs).
GEORGE: So, what's your favorite Navajo food?
ZAHN: I love mutton stew. The taste of the broth of mutton stew. I really do. Every time I go through the Navajo rez I'll always try and get some mutton stew or a mutton sandwich.
GEORGE: Well…(pauses) I didn't know that.
ZAHN: You didn't know I loved mutton?  Really? I told you to cook me some mutton. I said "George bring me some mutton. I love it." (laughs)
GEORGE: Well, now I'm going to switch it over to the filming of Dark Winds. So, the question is because you've got a lot of Navajo experience and have been around Navajos quite a bit. You probably didn't have much difficulty in playing Lt. Leaphorn? 
ZAHN: I didn't? Aaaye. (Laughs). Yeah, I did, man. Well you know how it went George. You were with me. It's difficult (pauses), you could never fully capture the essence of a Diné (Navajo) person,  unless you grew up Navajo and in that culture. As an actor I come in and I'm portraying a character. I can relate and identify with this character because he's a human but I can never fully envelop what it's like to be Navajo. I can do the best, by using my own life experience, the way I grew up, there are certainly similarities. That's what we do as actors. The language is a difficult one to try and speak. You know that. Even the fluent speakers say it's something you have to grow up around. I did everything I could to prepare for the scenes that had Navajo dialogue. I had a good consultant to help me *winks*
GEORGE: But you did a good job.
ZAHN: (Interrupts) Thank you.
GEORGE: I remember telling you that. When filming ended and the studio sent me cuts from each episode for comment and editing, I'd sometimes let family members listen to the Navajo and they pretty much gave you a 7-8 out of 10 on your Navajo.
ZAHN: (Interrupts) Because of you!
GEORGE: That's pretty good, even for a Navajo.
ZAHN: (Interrupts) I appreciate your guidance George!
GEORGE: (laughs)
ZAHN: Cause you wouldn't let me slip by with the mistakes I was making.
GEORGE: (Laughs, again and recalls some of the events on-set)
ZAHN:   Authenticity was important to the production team, the actors.  I think for everyone, it was a forefront for us to get things right, and that's why we hired you!
GEORGE: Yah. Let's talk about you, not me. (Laughs)
GEORGE: Ugh, okay., another thing, what did you enjoy most about filming a movie about the Navajo people? What did you like about it? There was something that probably motivated you? 
ZAHN: I enjoyed being around the cast and crew, native and non-native. I enjoyed learning more about the Navajo people and their stories. I certainly learned a lot from you and your knowledge of your culture. When I would stop and allow myself to be present I found the experience of the actual hard work we have to put in everyday to make a TV show enjoyable. When you're with a group of people for months at a time you form bonds with them. Bonds that sometimes last a life time. The work motivated me, the craft motivated me, the material motivated me.
MEL: A lot of Navajos, especially those between 50 to 60 years old, always talk about Tony Hillerman and how prolific he described the Navajo Reservation. We find in tourism studies that people visit areas if they hear about it through books or movies. You're definitely going to be contributing to that, how does that make you feel?"
ZAHN: Yeah, I think you're right, but Dark Winds is a mystery story that has Navajo characters and is fictional. We certainly aren't trying to make a documentary about Navajo people. I hope that certain people who have read the Hillerman books from all around the world are inspired to come to the Navajo reservation to see the culture and landscape, the vastness and the beauty of it. So, if people see Dark Winds, it motivates them to learn more about the culture and to visit the Navajo reservation and to understand it more. I think …that's a positive thing. I'm happy to be a part of that.  People experiencing a different perspective of Native cultures…that's a plus for sure.
GEORGE: Yes, it is a plus.
Thank you for your time.
Navajo actors – full list
Deanna Allison
Ernie Tsosie
Wade Adakai
Loren Anthony
Anderson Kee
Natalie Benally
Gary Yazzie
Robert Mesa
Dakota Shade
Jet Grant
Richard Jones
Jaunita Contreras
Dezbaa
Dennis Manuelito
Betty Ann Tsosie
Joshua Begay
Sarah Luther
Lily Joy Winder
Tony Curley Olver
Owee Rae
Ryan Begay
Ella Garlits
If you are planning to visit Navajo soon, get a copy of our 2023 Navajo Guide
In the 3rd week of July, our tribal president Dr. Buu Nygren penned an Op Ed for Time magazine, a once influential national magazine.  President Nygren argued that the Oppenheimer movie did not mention the sacrifice the Navajo people made towards the building of the atomic bomb.  "The Navajo people cannot afford to be, yet again, erased from history. Hollywood has a lot of work to do, and they can start by standing with the Navajo people and urging Congress to provide just compensation for victims of radiation exposure," President Nygren wrote in his op-ed.
"The Navajo Nation has borne the brunt of America's nuclear program, the cost of which can be measured in human lives, environmental devastation, and communities that are still suffering," President Nygren said. "We will not stand by and allow this legacy to be forgotten or dismissed. We will fight for justice, for recognition, and for the support our people so rightfully deserve."
The tribe has a program under the Navajo Department of Health that deals with health affects caused by uranium mining.
It is very often that a Navajo leader, strategically and effectively, adds their voice to a national topic. The national magazine is available in print and online.
Stateline, Tonalea (Ariz.) Chapter, July 29, 9 pm – 1:30 am
Drums of Summer, Greasewood Community School, July 27, 4:30-8:30, (928) 654-3331 for more information
Storytelling with Miss Navajo Nation at the Navajo Nation Museum & Library in Window Rock, Aug. 2, 2023, 12-1 pm MDT
Gallup Intertribal Ceremonial, Aug. 4-14. Read our story in the current issue of the Guide about the Gallup Ceremonial.
Drums of Summer, Shiprock SASI campus, Aug. 4, 2023, 11am -10 pm  (505) 368-2100 for more information